Faire Heart Centre
Currently OPEN Fridays and Saturdays 11am-4pm, or by appointment. Hours subject to change. Shop our boutique or drop-in to create a project during our open hours! Contact us to book an appointment during our non-open hours to shop or create. No reservation needed during our open hours. 
Our main "Centre" location, at 3408 W US-10 in Ludington, offers so many ways to get creative and enjoy art! This space is divided into two sections - our Artisan Boutique is located up front (next to Erin Doan State Farm) and our Event Centre & Classroom is in the back of the building, with a hallway and our restroom in between. Our Centre is handicap accessible! We also bring our very friendly and well behaved dogs (Cocoa and Sam) to work with us, so you may just be greeted first by one or both of them! (if you have dog allergies please let us know right away, and we can escort them to our office to take a nap on the couch. Our location at The Port does not have dogs.)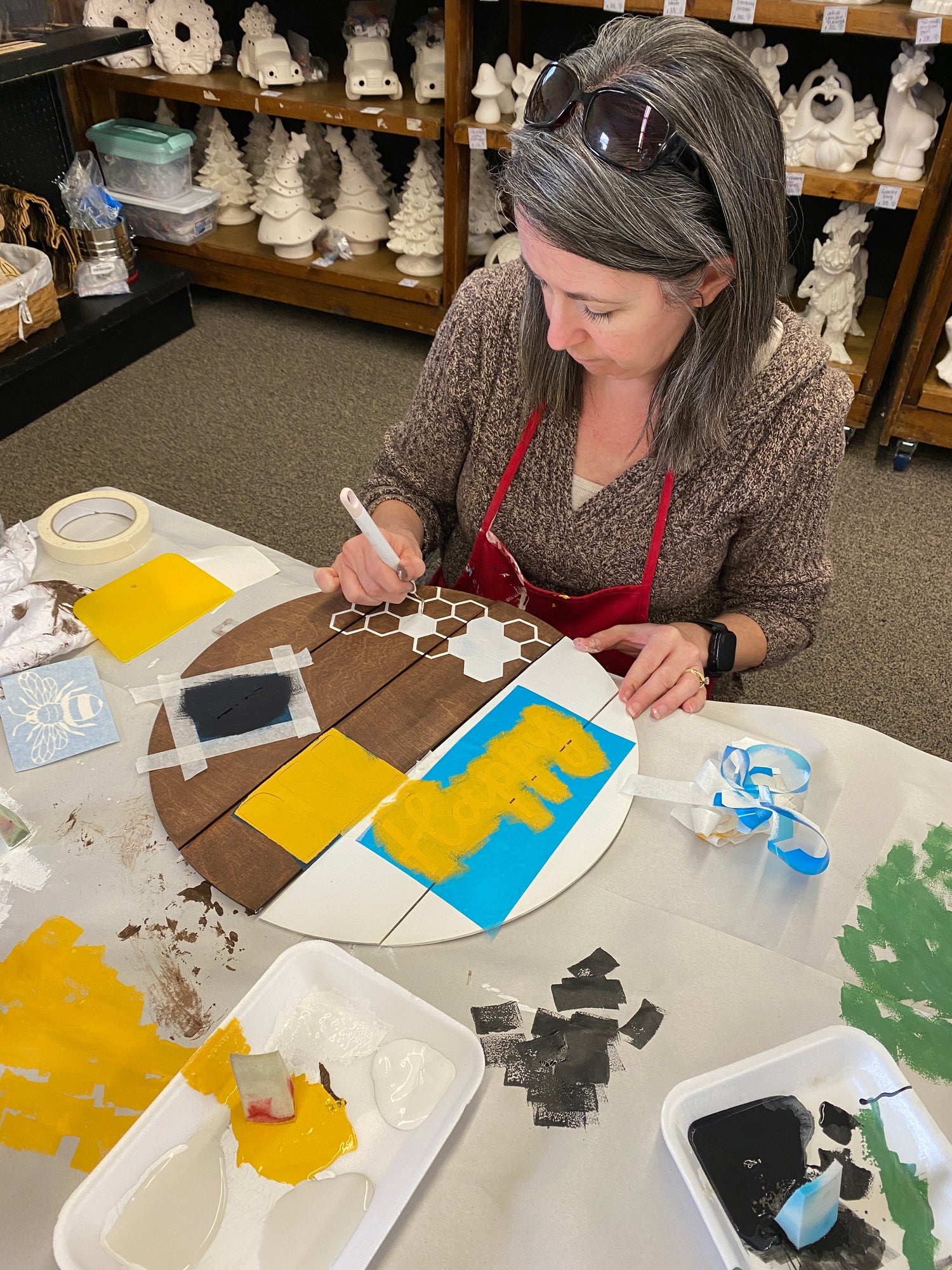 Drop-in & Create!
You can drop-in & create with us, no reservation needed! We have a large variety of ceramic projects, wood signs, canvas paintings, and string art available to create, for just about anyone and all ages! You can drop-in during our business hours to create something in our classroom.
Cost is a $10 "studio fee" per person, or $25 family pass for up to 5 people in the same household, plus the cost of the project item(s) chosen. Project prices range from about $3+. Our studio fee covers the use of our paints, brushes, glue, ribbon/twine, and any other necessary tools or supplies. Plus, clean up is on us!
NEW! You can now bring your own project to work on! Use our space or supplies, and just pay the studio fee.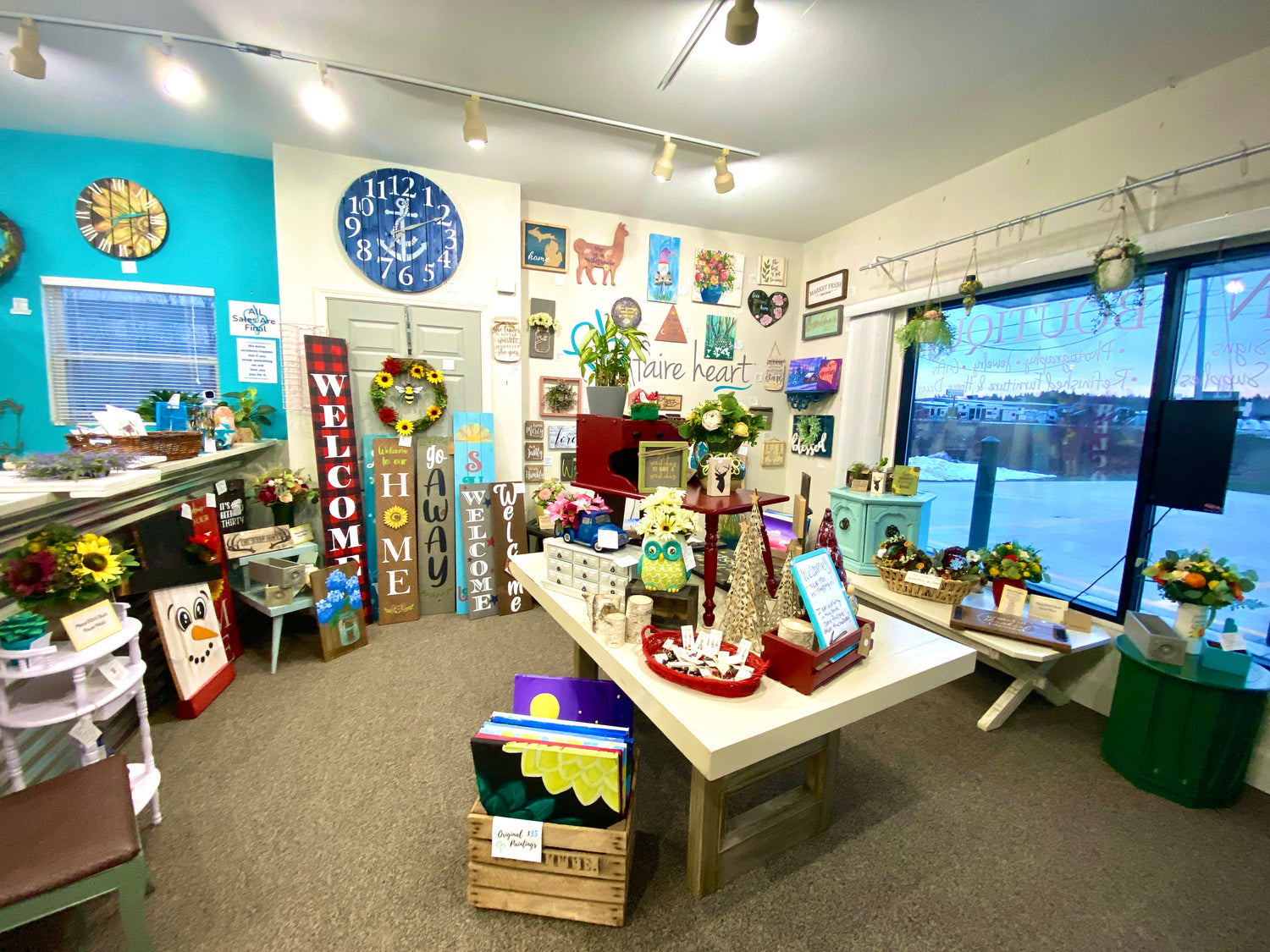 Our Artisan Boutique
Located in the front of the building, we opened our very own Artisan Boutique in June 2022! Our boutique offers a variety of locally-made artisan products including original paintings, handmade jewelry, wood signs, custom clocks, wreaths, home decor, and much more! You can also place a custom order for a wood sign or personalized art piece. Many of the items found in our boutique can also be created as a drop-in project!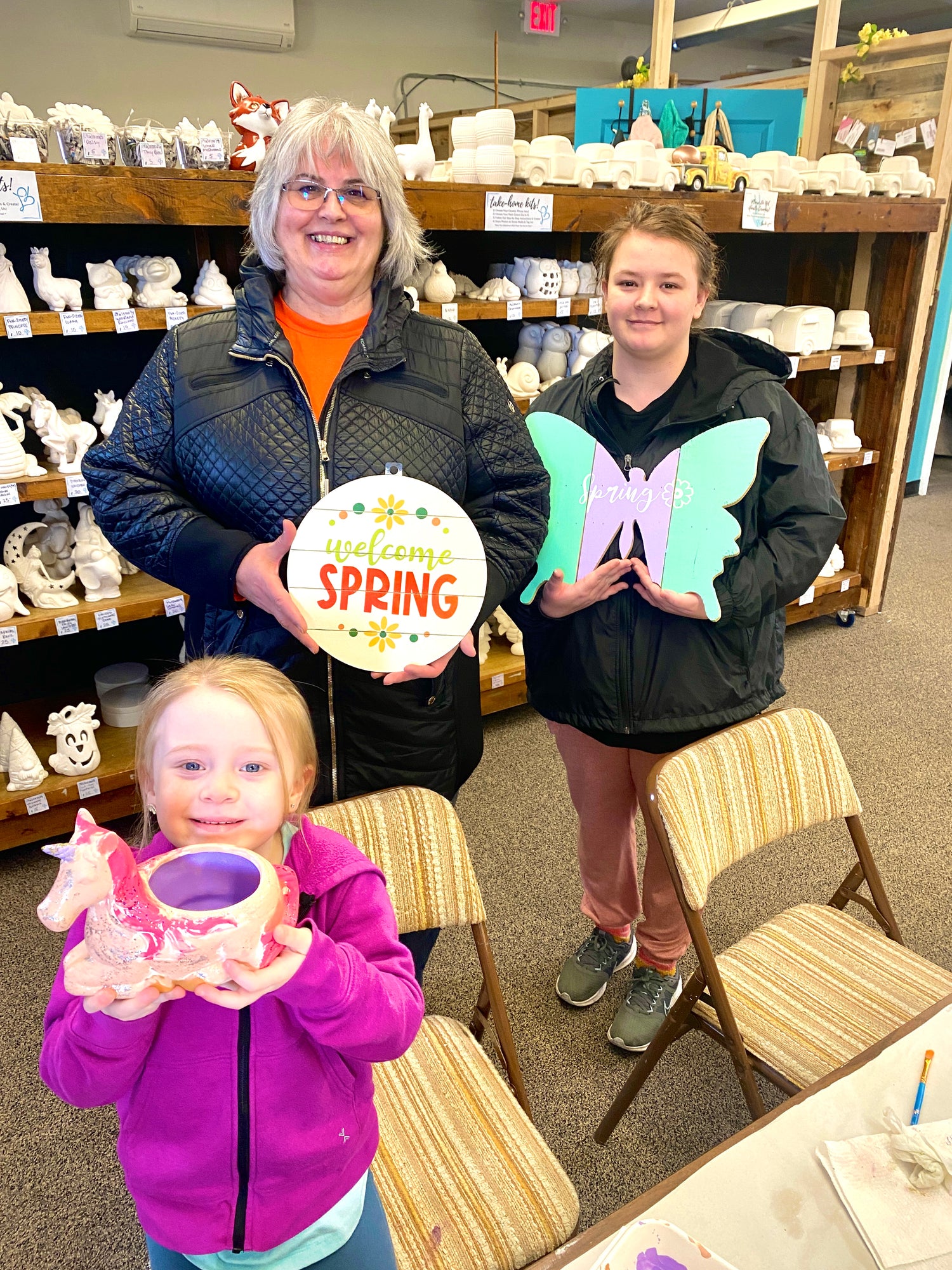 Event Centre
Located in the back of the building, our Event Centre classroom is where the FUN happens! We host public and private creative events, including paint parties, ceramic painting, paint pouring workshops, blacklight art parties, kids art classes, and more coming soon! Check upcoming events schedule below. We also host specialty events, such as ladies nights, blacklight art exhibits, fall/winter "Faire Heart Market", date nights, and more! Join our email list and stay in the loop by texting FAIREHEART to 22828.
Register for a Creative Event!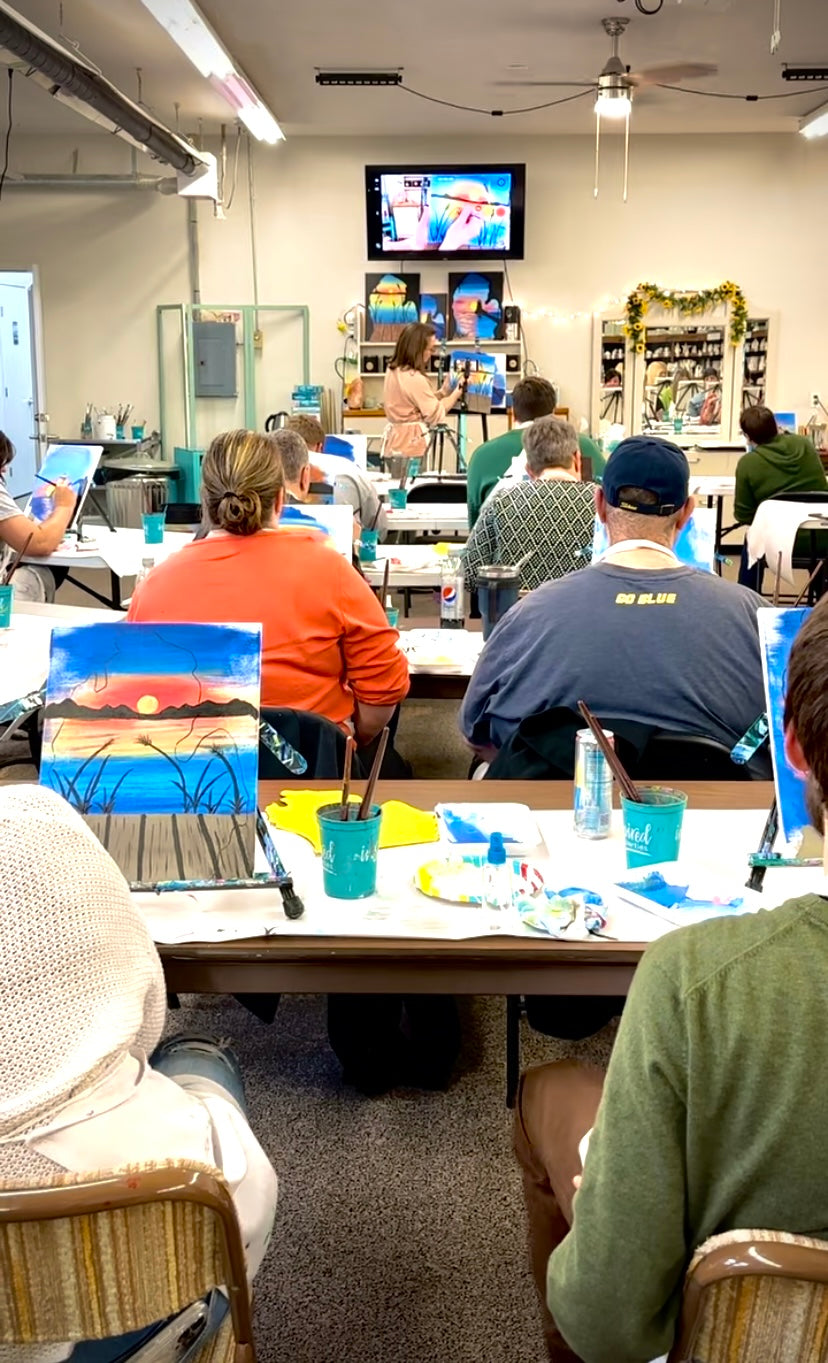 Book a Private Event!
Our Event Centre is where we host the majority of our creative classes open to the public, but it's also available to reserve for a private party! 
You can reserve a private party at our Event Centre for groups of 6+ people. Contact us about booking a private event at our US-10 location. This can be a step-by-step instructed class or you can just reserve the classroom space and do your own thing! Perfect for all occassions and celebrations. Your group is welcome to BYOB and food/snacks, and even decorations! 
Have less than six people? Visit us during our regular drop-in times, or request a set of take-home kits for your group!
Email us: info@faireheart.com to book a private party!
Book Your Event
Build a Take-Home Kit
Tight on time, or prefer to create from home?
We can package a painting kit to take home with you! Wood signs, ceramics, or canvases....It's your choice of project design, up to 3 colors of paint, plus an instruction sheet are included for you to conveniently paint at home! We have brush sets for sale in our boutique if you don't already own some. 
So Many Creative Experiences!
Paint Splatter Room

Our newest, bright and beautiful addition to the Event Centre! Our paint Splatter Room can be enjoyed however you want, and you can get as messy as you want! Perfect for date nights, birthday parties, team building activities, baby gender reveals, and more! Get as creative (and messy) as your heART desires.

Book the Splatter Room

Chunky Knitted Blanket Classes

A popular and FUN creative class that's easy for all experience levels! Register for an upcoming class, or book your own private party! Great for ages 12+

Upcoming Classes

Canvas Painting

It's how we started! Sarah has been teaching canvas painting classes for 8 years...you can schedule a private party for 6 or more people, or create a painting during our drop-in hours! We have SO many great designs to choose from! Want to have access to over 50+ virtual painting tutorials? Join our membership, Faire Heart Makers! Other great perks included for our local MAKER members, too!